CTE Vision
Reflect, Transform, Lead: A New Vision for Career Technical Education
This five-part series dedicates an issue brief to each of NASDCTEc's core principles for CTE: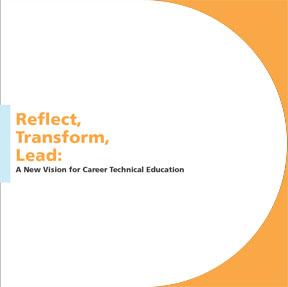 In the spring of 2010, CTE leaders, advocates and partners committed to a new CTE vision to guide the future of education for all students. Its ultimate goal: to prepare students of all ages to succeed in education and careers—and enable the United States to flourish in a dynamic and increasingly competitive global economy. Download the CTE vision paper.
Guiding Principles. The new CTE vision is defined by five guiding principles. Collectively, they serve as guideposts for the CTE community to set priorities and make decisions affecting CTE programs, policies and priorities—and to chart a new course for CTE and the nation in the 21st century.

Learn More and Spread the Word. Click here to download the CTE vision paper. You can also order the full-color CTE vision brochure online in the Product Store. In either case, you'll learn about the basis for the five vision principles, along with specific steps being taken to transform the CTE vision into long-term success for students, business and industry, and the country.
Vision Progress Report 2012
To mark progress and ensure success in achieving the vision, each of the five principles includes a set of corresponding action steps, committed to by the states and NASDCTEc. In the Vision Progress Report, we identify the specific initiatives that were launched to put these action steps in motion. Here, NASDCTEc reflects upon and celebrates the progress made to date and renews our commitment to continuing the pursuit of achieving our vision.
CTE: Making the Difference
CTE is leading positive change in secondary, postsecondary and adult education, with innovative programs that are making a difference nationwide. Inspired by our CTE Vision paper, CTE: Making the Difference is a high-energy 3-minute video highlighting the many ways CTE is working for America by improving high school graduation rates, lowering drop outs rates, and increasing the number of students going on to college
Integrating Education and the Workplace. In adopting the new, revitalized vision of CTE in the 21st century, the CTE community has re-dedicated itself to work together at every level to transform the U.S. education and workforce system into a new, even more productive system that:
Rewards innovation,

Supports different learning styles,

Values different student interests and talents equally,

Adapts and responds to technology and workplace needs, and

Prepares all students (secondary, postsecondary and adult) for career success through multiple career pathways.