Kansas
CTE Success Map: Programs that work for Kansas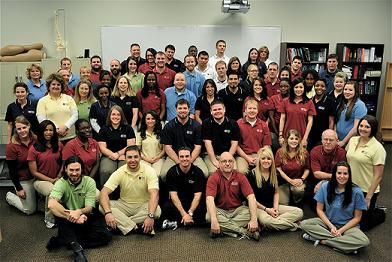 Kansas City Kansas Community College – Physical Therapy Assistant Program
The Physical Therapist Assistant (PTA) program at the Kansas City Kansas Community College (KCKCC) exemplifies the forward-thinking dynamic of Career Technical Education (CTE). The leaders of the program attribute their commitment to lifelong learning and improvement as the most influential component of their success.
Professional Development for Faculty
Faculty for the PTA program strives to deliver students with a well-rounded education beyond the attainment of technical skills. This begins with professional development for faculty. Faculty activities in the PTA department are focused not just on therapeutic treatment abilities, but also on pedagogy to improve teaching skills through special trainings. Faculty members also remain current in the field by working in a clinical setting each summer.
Academic and Technical Learning
The PTA program is structured to integrate academic and technical learning for the duration of the program. In the first year, students complete intense academic coursework including a laboratory component and two in-house clinical courses. Students then complete a four-week, off-site internship before returning to campus for another semester of academic and laboratory coursework. During their final semester, each student must complete 12 weeks of clinical internship prior to graduation.
A Culture of Professionalism for Students
In addition to their challenging academic coursework and technical training, students receive plenty of guidance from faculty and partnering employers. The PTA department and partnering clinical facilities set clear expectations for student professionalism through a jointly-developed professionalism policy. Program leaders recognized the importance of training students with knowledge and skills, and also with employability skills, to help them succeed in the workplace. The professionalism policy helps improve students' employability skills by setting standards for ethics and professionalism required in the PTA profession. Students receive direct instruction on communication skills, responsibility, interpersonal skills, stress management, and use of constructive feedback.
Perkins and State Funds to Advance Classroom Equipment and Technologies
Federal funds administered through the Carl D. Perkins Career and Technical Education Act (Perkins IV) is central to maintaining current equipment for the PTA program. The program also received a $50,000 "Excellence in Technical Education" grant from the Kansas Board of Regents Technical Education Authority. The grant has helped fund two orthopedic laboratories and a neurological/mobility laboratory, as well as 52 iPads on which students take computerized exams with item analysis.
These efforts contribute to the PTA program's high student outcomes; for the past three years, at least ninety-eight percent of PTA students have passed the national board exam on their first attempt. In 2011-2012, one hundred percent of students passed the exam on their first try. Part of this high rate may be attributed to a review course for the national exam implemented by the program which targets test-taking skills, exam preparation, and development of a study plan. Most graduates of the program enter the field as PTAs. While some students continue on to physical therapy school, the majority continue as treating clinicians.
Contributor: Dr. Tiffany Bohm, Kansas City Kansas Community College
Tell us more about your CTE school or program by completing the CTE Success Map survey. For more information, please contact Kara Herbertson at kherbertson@careertech.org.