Career Readiness Partner Council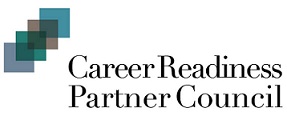 The United States is on the cusp of transforming education and workforce preparedness. The ever-changing demands of the global economy and the desire to remain competitive, coupled with mounting frustration over decades of lackluster academic performance are converging to create an opportunity for change.
Policymakers and the public alike are embracing "college and career readiness" as the solution, but what does it mean? Much of the policy debate focuses on college entrance and completion as a solution. However, college readiness is only part of the answer. What is needed is a more comprehensive strategy that bridges the gap between education and workforce preparation.
To find that solution, the Career Readiness Partner Council was formed in 2012. The Council has united leaders from national education and workforce organizations with the goal of bringing clarity and focus to what it means to be career ready. In October 2012, the Council released a statement to articulate a clear, unified and focused vision for what it means to be career ready -- Building Blocks For Change: What it Means to be Career Ready.
"The notion of college and career readiness must be broadened, shifting from its primary focus on college entrance and completion to include a mastery of key knowledge, skills and dispositions that students must foster throughout the life of their careers," said Kimberly Green, Executive Director of the National Association of State Directors of Career Technical Education Consortium (NASDCTEc), the group that coordinated the effort.
"The vision laid out by the Career Readiness Partner Council brings the nation closer to developing programs that truly prepare students to compete in the global economy."
Click here and learn more about the Council and read the full statement about career readiness.
The organizations that comprise the Council, include:
Achieve
Alliance for Excellent Education
American Association of Community Colleges
American School Counselor Association
America's Promise Alliance
Asia Society
ASCD
Association for Career and Technical Education
Business-Higher Education Forum
ConnectEd: The California Center for College and Career
Corporate Voices for Working Families
Council of Chief State School Officers
The Eli and Edythe Broad Foundation
Ford Motor Company Fund
Gallup
James B. Hunt, Jr. Institute for Educational Leadership and Policy
The Manufacturing Institute
National Academy Foundation
National Association of State Boards of Education
National Association of State Directors of Career Technical Education Consortium
National Council of La Raza
National Education Association
National Governors Association
National League of Cities
National Youth Employment Coalition
Skills for America's Future, The Aspen Institute
Smarter Balanced Assessment Consortium