CTE State Snapshots: CTE Data for Your State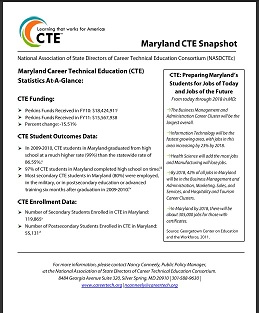 Looking for information on Career Technical Education (CTE) in your state? Our new collection, CTE State Snapshots: CTE Data for Your State, provides recent CTE information – enrollment data, performance data, funding levels, and labor market connections – all specific to your state. These tools can help you tell the story of how CTE is working in your state and every state across our nation.
Use the CTE State Snapshots as an advocacy resource, sharing these CTE data points and facts with educators, administrators, policymakers, and business and industry.
Here are some examples of what you can do to spread the word about CTE in your state:
• Post the CTE State Snapshots on your Web site.
• E-mail the CTE State Snapshots to your community and partners.
• Distribute the CTE State Snapshots to your state and local policy makers.
• Add CTE State Snapshots facts to your CTE presentations.
Excerpts from CTE State Snapshots:
California

Over 92 percent of secondary CTE graduates were employed, in the military, or in postsecondary education or advanced training within 6 months after graduation in 2009-2010.

Delaware

Almost all secondary (93 percent) and postsecondary (94 percent) CTE students met or exceeded proficiency levels on technical skills exams.

Utah

Between 2012 and 2018, Information Technology is projected to be the fastest growing Career Cluster ™, increasing by 37 percent.

Oklahoma

Ninety-four percent of eligible adult CTE students earned a postsecondary certificate, credential, or degree in 2009-2010.
CTE State Snapshots